Rolling Brook Yoga
Rolling Brook Yoga offers a full spectrum of classes for all levels. Our students receive step-by-step instruction, guided practice, and personal attention from experienced, certified teachers in a small & friendly class setting.

To find out how the practice of yoga can relieve anxiety, calm your mind, ease your back pain, boost your strength, improve balance, and even help lower high blood pressure, try a class for free. Click on the link below and let us help find a class that's right for you.

Indoor Studio Classes
In-Studio classes are temporarily suspended. All classes are online. Please check back for updates.
Meditation, Pranayama, Yoga, QiGong, Yoga with Weights, and a workout all available for free.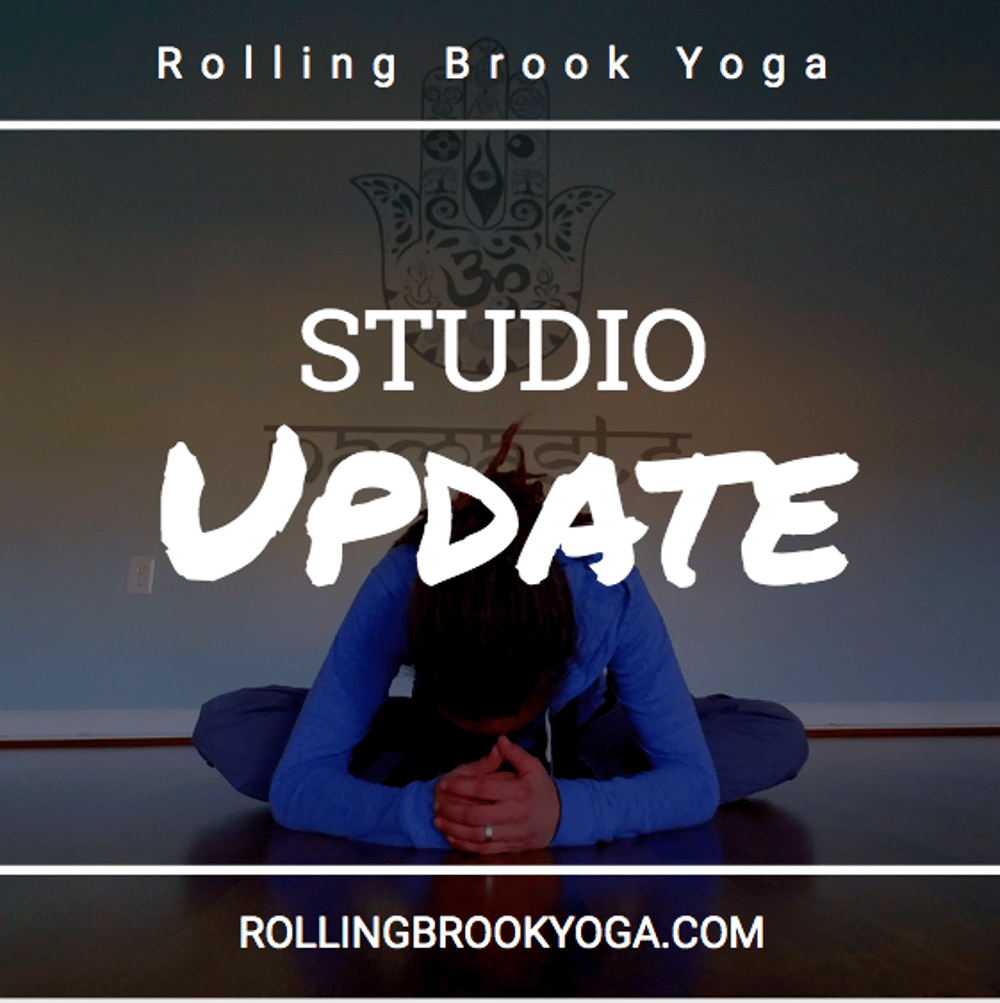 January, 2021:

Thank you for your interest in Rolling Brook Yoga. Whether it was idle curiosity that brought you to our site, or an interest in classes, without you, we wouldn't be here.

Due to the rise in COVID cases, all of our classes are currently online only. We hope to be back in the studio within the next few months and will certainly be outside as soon as it warms up again!

Remember that part of the reason we practice is to be resilient through times like these. Breathe deeply, move often, rest well, look up at the sky, and we'll see you soon.

Thank you for continuing to practice with us,
Lynne & the RBY teaching team
---
"Welcome to Rolling Brook"
That's what you'll hear from students and teachers the moment you step through our doors. We strive to offer a comfortable, inclusive, friendly, and safe space to all, and yoga to meet you where you are. Whether you're a curious novice or a seasoned practitioner, we think we have a class for you.
I've had the great pleasure of practicing at many different yoga studios and of all the places I've been, Rolling Brook has always felt like home. It's not huge or fancy, but there is such a strong sense of community and the relationships I've witnessed and become a part of here are amazing and inspiring! If you've never tried yoga because you feel intimidated by the idea of stepping outside your comfort zone or you are under the impression that you need to be flexible to practice, I urge you to push these thoughts to the side and give it a try. Find a reputable studio near you and get on the mat! Open yourself up to all the amazing benefits yoga has to offer! If you have any questions shoot me a DM (MBStrength.com) and I'll do my best to convince you that you'll love it!
- Mary B.
"Great Yoga studio with exceptional instructors. I've taken classes with 3 different instructors so far and can honestly say all of them have been very kind and accommodating to all skill levels. Can't recommend this studio enough."
- Angela M
"Love the welcoming environment and awesome instruction. This is truly a gem in Catonsville. Rolling Brook offers all levels of yoga and pilates. I especially love the additional workshops offered. They are a great way to expand your practice."
- Maria G
"My best friend and I have been attending classes here for over a year now. We tried a few other places and just love the warmth and encouragement we get from the instructors are Rolling Brook. It's a very friendly place, competitively priced for the area and conveniently located on Edmondson. This is by far the best place I have ever practiced Yoga"
-Kathleen H.
"I love my classes at Rolling Brook Yoga. It's the only time during the week I have to unwind and relax. The teachers are sweet, attentive, encouraging, and extremely knowledgable, especially for a beginner like me. They really help promote the practice of yoga and the mind-body-soul connection. The classes are relaxing but challenging at the same time, and the studio is small but cool, clean, and calming. I would definitely recommend Rolling Brook Yoga to anyone interested in quality yoga instruction and practice."
-Julie M.
"My yoga place. Awesome people. Great special events. community involvement. Reasonably priced."
- Patty M
October, 2020. RBY has reopened with limited people per class and a careful schedule. I am in a Gentle Yoga class with a limit of 5 students. We are all masked, bring our own mats and props etc. RBY always keeps the studio impeccably clean.Hand washing before class and windows open.I feel safe returning to my Yoga mat at RBY.
-Anita, Catonsville.
Add a title
This lovely studio offers a friendly, caring and supportive environment, as well as excellent teachers and a great selection of classes. Their focus isn't on "the perfect pose," but instead on the joy and peace that yoga can bring to the mind and body. Even with most classes being held online now, the sense of community is still strong at Rolling Brook Yoga.
-Joanne K.
Address
1715 Edmondson Ave Ste C
Catonsville, MD 21228
Phone
(410) 744-0946
Monday

08:45 am – 01:00pm

,

04:15 pm – 08:45 pm

Tuesday

07:45am – 10:45 am

,

04:30pm – 08:45 pm

Wednesday

09:15 am – 12:30 pm

,

04:30 pm – 08:45 pm

Thursday

06:00am – 10:45 am

,

04:30 pm – 07:30 pm

Friday

Saturday

07:45am – 12:15 pm

,

01:45pm – 03:30pm

Sunday

08:45 am – 11:45am

,

03:45pm – 05:30pm